One year EVS volunteering in university sport – EUSA
More Info
Country of the applicant: Slovenia
More Info
Country of the applicant: Slovenia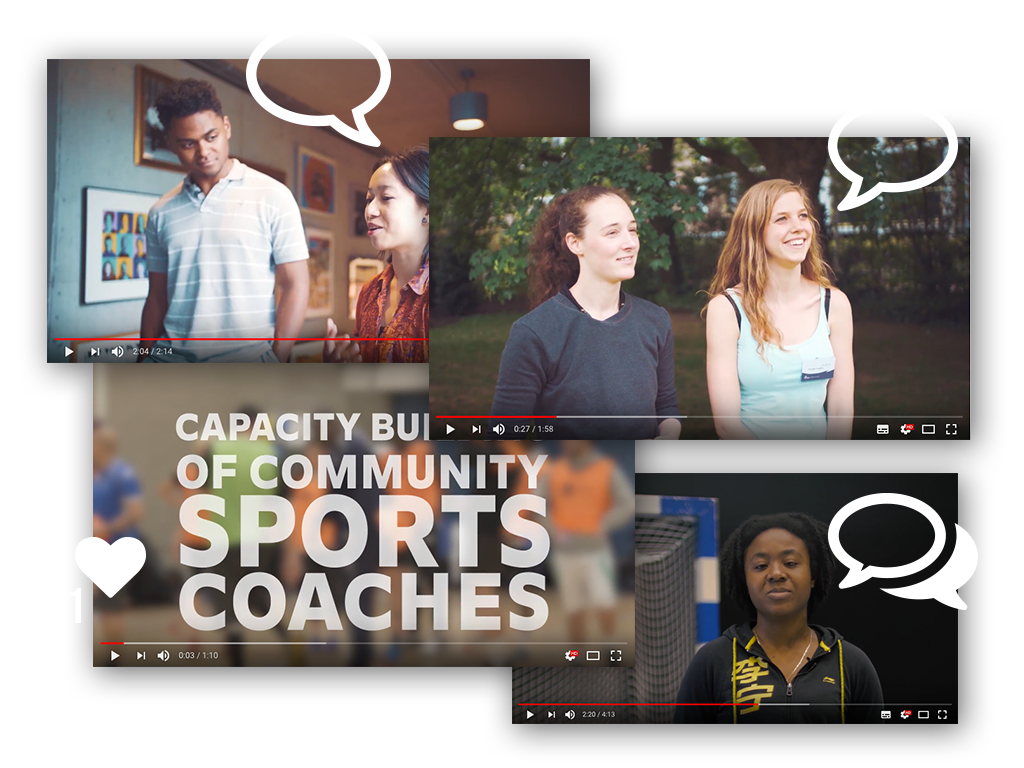 Lead Organisation
Information
Name of the lead organisation
EUSA Institute (established in 2016 by EUSA – European Union of Sport Association)
Type of the lead organisation
Non for profit umbrella organisation
Funding
Type (public, private, etc): Public
Name of the funding programme: 

Erasmus+, KA1, EVS

Amount: Through the Erasmus+ programme support is allocated as defined in the rules, depending on the country where the mobility activity takes place. For Slovenia for 2018 this is 20EUR per each day of activity (we usually have one year EVS periods). This funding is used to cover the costs of accommodation, food and local transport for the volunteers.
In addition to this amount, the volunteers get an individual support (symbolic pocket money) from the EU funding (daily 3 EUR).
The EU funding covers most of the costs. EUSA, however, additionally invests its own finances to match the costs and cover additional services.
Type of activity
Concrete activities / learning mobility scheme
Sector
Sport and Physical Activities
Description of the initiative
European University Sports Association (EUSA) is an umbrella non-governmental (NGO), non-profit organisation, working in the field of university sport in Europe. It links national university sport federations, universities, teams, individual competitors, volunteers and other partners in 45 countries throughout Europe. EUSA is the licence-holder and coordinator of European Universities Championships and European Universities Games. Each year, over 3000 participants take part in our sporting events. Apart from the sports programme and activities, EUSA also supports and encourages educational activities in the field of student sport. These are mainly realised by EUSA Conferences, Seminars and Conventions.
EUSA, being a pan-European organisation, finds important and stimulating to host volunteers in their office in Ljubljana, enabling them to have a fresh and international view in EUSA youth work and projects.
The EVS position in EUSA is open to individuals between 17 and 30 only during the announced calls, as a long-term placement, usually for a period of one year (12 months). EUSA has the capabilities to host up to two international volunteers at the same time.
Please note that the recruitment period is officially announced and realised only once per year (usually in the beginning of the year).
Though the focus might be slightly different each year, it is anticipated that during the project volunteers will learn about the structure of university sport on a local level and in a broader European context and actively participated in the planning, organization and execution of several events.
Presentation of the 2018 opportunity is available here: https://ec.europa.eu/programmes/erasmus-plus/projects/eplus-project-details/#project/2017-3-SI02-KA105-014399
Beneficiaries Information
Volunteers should be between 17 and 30 years old, and resident in the country of their sending organisation (from Programme countries and Partner countries neighbouring the EU, see programme guide for more details).

Currently there are some changes regarding EVS (merging with EU Solidarity Corps). Find more info here: https://europa.eu/youth/solidarity/organisation_info_en
About The Mobility Experience
Country visited & duration
Country(ies) visited: Slovenia
Duration: 

12 months
Clear learning outcomes
Practical and easy-to-use support to the learner
Framework to recognise the acquired skills
EUSA measures/evaluates if the projects are successful in several ways:

Already in the stage of recruitment of volunteers and the application process, EUSA takes the motivation of the volunteers, their aims and wishes into account.
The volunteers themselves are key. EUSA tries to establish the aimed learning outcomes upon the arrival of the volunteers and helps them recognised the acquired skills through the Youthpass. During the EVS service EUSA monitors and if needed modifies the plan, evaluating the progress of the volunteers in between the service, and at the end of it as well. Their overall experience and the quality of their EVS service is also important to EUSA. Additional efforts are therefore made to ensure the quality of EVS projects and conditions for the volunteers, as well as by providing opportunities for them.
The satisfaction rate of the project is also evaluated by the EVS coordinators, mentors and EUSA staff.
It is important that the volunteers have the support in the hosting organisation (EUSA) – especially from the coordinator(s) and mentor(s), as well as the sending organisation – especially for preparations before arrival, during the service in case of major problems and on their return.
Barriers identified
Administrative burden/ difficulties (i.e. complex application forms, visas, insurance)

Overcome during the initiative: Yes

Financial constraints

Overcome during the initiative: Yes

Others (please mention):

First of all we shall mention that the administration of the EVS projects is fairly simple, especially if it is done more than one time, therefore sport organisation should not be afraid of the administrative burden. Yet it must be clear that to implement quality EVS experience small additional funding is needed.
One of the main challenges we notice is the potential gap between the volunteers' expectations of working in European sport organisation and the reality of spending one year in one. The learning process encompasses also a lot of office work and perhaps seemingly mondaine tasks, and is set progressively from task-based work to carrying out individual projects.
The other aspect which is very important to realise and adapt to is the cultural and differences and personal characteristics of the individuals involved – both the volunteers and the people they interact with on daily basis. In our office we try to be as open as possible and for some volunteers this presented a challenge – not being able to discuss problems or open issues directly. Being able to fully express oneself and be understood in a foreign language is key.
Testimonial from the organiser
Interview with Andrej Pisl, EUSA Communications and Projects Manager, who speaks about the experience as an host organisation.
"The EVS experience is crucial to the development of EUSA as the hosting organisation – learning from EVS volunteers and projects, benefiting future projects and organisation itself. In addition personal engagement and growth of EVS volunteers after their service is also very beneficial to the organisation".
Andrej Pisl, EUSA Communications and Projects Manager
Testimonial from a participant
"Sometimes the journey is not about to find out who you are, but about to discover who you are not. You have to know when you have had enough or it is worth to hold on because, in the end, some greater thing will come along."
Anett Fodor from Hungary
"Visiting and living in a country is completely different; mainly it's the spirit you are in. I was more at the beginning in the spirit of visiting and I didn't realize that one year is long. Living far from my family and friends that I missed and they missed me. Then I realized that I had to adapt myself to this new environment & culture and to take the best of it! It was sometimes fun, sometimes difficult but I have no regrets and I will go back only with good memories from this experience.
I was given a lot of freedom in EUSA and had to figure out the best solution to have good results. That was challenging and I learned a lot through this unformal learning method. Learning by experiencing and making some mistakes… Oh, yeah I did some mistakes and sometimes big ones! Sorry, hehe! But I will never do them again and it's a good benefit from this method."
Romain Charrier from France
Interview with Marianna Piskul from Poland, who speaks about her experience as an EVS hosted by EUSA
"My adventure with EVS started already 3 years ago. It was just after European Universities Futsal Championships in Poland, that I've heard about this opportunity for the first time, and knew I would try to make it happen for me one day. 3 years later, few other EUSA events on the way, and I arrived in Ljubljana for my first day as an EVS volunteer in EUSA office.
This experience could not get any better. In EUSA office I'm constantly learning new things and improving my skills."

Marianna Piskul from Poland, EVS from February 2018 to August 2018
Interview with Nenad Ruzic from Serbia, who speaks about his experience as an EVS hosted by EUSA
"After I gained my bachelor diploma in psychology and working for two years as a marketing manager in a company I wanted to try something new. My goal was to challenge myself in living in a foreign country and working in a serious organization where I would have an opportunity to check my abilities and to re-evaluate my career goals. For some time I knew about EVS program and I really wanted to use that experience, because as I see now, it is crucial for my further development.
Since 2011 I was thinking about applying and for 6 years I found excuses stronger than my desire. Personal issues, work-related issues, college, etc. Luckily, I didn't allow my fears to be stronger last year."

Nenad Ruzic from Serbia, EVS from February 2018 to August 2018
Other important information and feedback about the good practice
Out of the 7 EVS volunteers EUSA has hosted, six of them have also took part in EUSA events after their service, which reflects the success of the mobility projects in EUSA.
Check out which program fits
to your profile.