More Info
Country of the applicant: Denmark
Countries of the partner organisations: Portugal, Germany, France, Estonia, Greece, United Kingdom, Spain
More Info
Country of the applicant: Denmark
Countries of the partner organisations: Portugal, Germany, France, Estonia, Greece, United Kingdom, Spain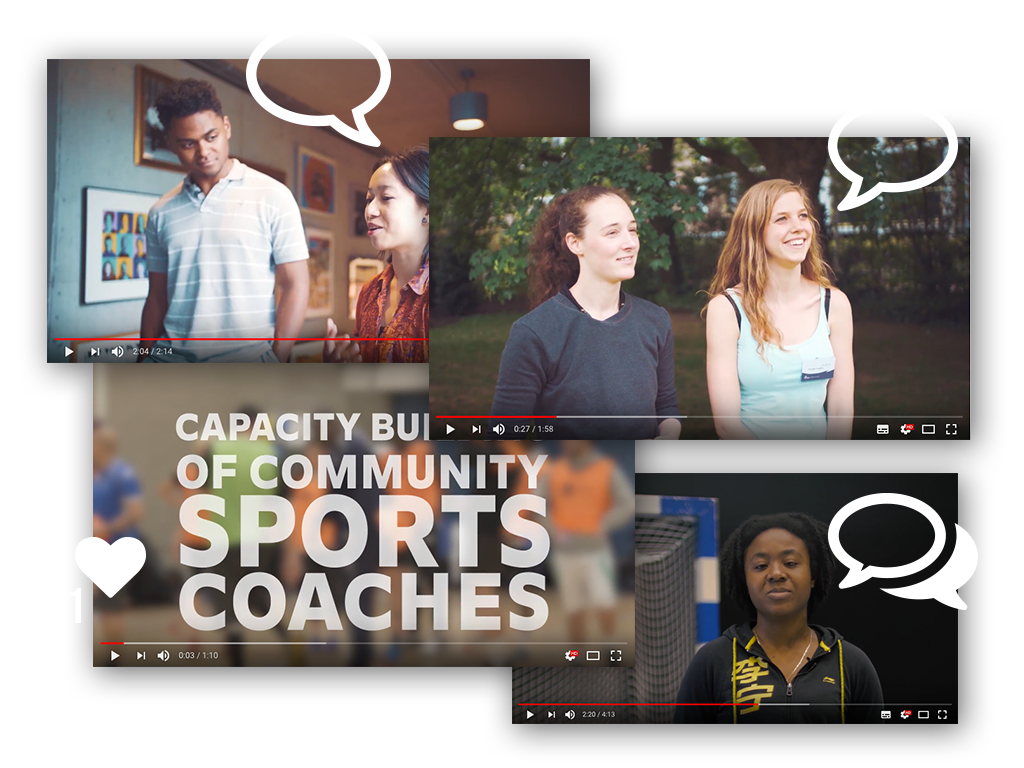 Lead Organisation
Information
Name of the lead organisation
ISCA – International Sport and Culture Association
Type of the lead organisation
Non for profit umbrella organisation
Funding
Type (public, private, etc): Public
Name of the funding programme: 

Erasmus+, EVS

Amount: 77.000 Eur
Type of activity
Concrete activities / learning mobility scheme
Sector
Sport and Physical Activities
Description of the initiative
The International Sport and Cultural Association (ISCA) based in Copenhagen, Denmark every year host several young volunteers who have taken advantage of The European Voluntary Service (EVS) programme. ISCA is coordinating various activities in the promotion of sport and physical activity on regional and international level. ISCA also engages many member organisations and other partners in diverse projects of key issues and topics

ISCA has a long standing experience in hosting volunteers, indeed their EVS agreement has been ongoing for the last 10 years. Becoming a volunteer with International Sport and Cultural Association (ISCA) is the beginning of a great learning process for a volunteer, they learn new capacities and acquire new skills. However, the process is a two way one, since the volunteers bring their new ideas and questions that also stimulate and challenge ISCA staff to improve the quality of their own work. Indeed the ISCA staff trust young volunteer who therefore can easily find a place in the different projects and contribute to them. All volunteers will have the opportunity to be engaged in a number of projects, campaigns and events.

At ISCA, volunteers have responsibility for managing their own schedule and workload. Learning by doing is a process always present in the day-to-day life of a volunteer.

The volunteers will have the chance to work on in various areas such as:


Physical activity and healthy lifestyle promotion
Event organisation
Communication and marketing
Analysis and reporting
Fundraising and advocacy
Project management
Financial management
Beneficiaries Information
Volunteers should be between 17 and 30 years old, and resident in the country of their sending organisation (from Programme countries and Partner countries neighbouring the EU, see programme guide for more details).

In case of ISCA, the profile of volunteer is: average age around 25 years, graduated in Bachelor or Master, with some work experiences (internship, volunteering, employment) and high interest in working in NGO field, in particularly in the field of grassroots sport sector, general health and well-being. ISCA normally hosts 5 volunteers, from which 3 start in March and 2 in September for one year. The recruitment process starts about 7 months before with publishing open call on ISCA's website, European Youth Portal and is sent out via newsletter and promoted on social media of ISCA and partners. Volunteers are selected based on the needs of current activities in ISCA and their experiences and motivation.
Currently there are some changes regarding EVS (merging with EU Solidarity Corps). Find more info herehttps://europa.eu/youth/solidarity/organisation_info_en
About The Mobility Experience
Country visited & duration
Country(ies) visited: Denmark
Duration: 

6 to 12 months
Others (please mention): win-win for both volunteer and organisation
The main factor of success in ISCA's case is a win-win situation for both parties involved. The organisation involves a volunteer with some experiences and many ideas into everyday work and projects, which gives new perspective while the volunteer benefits from hands-on learning and experiences in the known/unknown area.
Barriers identified
Financial constraints

Overcome during the initiative: Yes

The main barriers in ISCA's case are on one side administrative in case if volunteer is coming from non EU country, there is more administrative work to be done to acquire VISA.
In terms of financial burden, as the costs of living in Denmark are higher than the funds received from EU, ISCA contributes with its own financial resources.
Testimonial from the organiser
"53 volunteers from around the world have made ISCA to what it is today – a dynamic and international organisation full of people with different backgrounds. Receiving over 150 applications on average for every open call, ISCA could claim that we one of the most popular hosting organisations for the European Voluntary Service (EVS). We can definitely recommend it to other organisations that are open and willing to share work and knowledge with young volunteers, who on the other hand contribute with fresh ideas and perspectives. At the same time hosting an EVS, is also a challenge for organisation and staff as he/she needs quite some guidance and mentoring."
Jacob Schouenborg, Secretary General at ISCA
Testimonial from a participant
"My EVS experience at ISCA is more than a learning and professional experience, it´s foremost a wonderful personal living experience. Open to Europe, opportunities and great challenges".
Lauriane Jagault, from France EVS from September 2017 to August 2018
"Since the first day I felt very welcome to ISCA family. EVS at ISCA challenges you but gives you a lot of skills in return."
Kreetta Lapinniemi, from Finland – EVS from September 2017 to August 2018.
"Copenhagen has proven to be a perfect spot for volunteering and more. From judo competitions to start-ups, you can gain a lot and bring the fresh ideas back to ISCA – your home turf."
Triin Ilves, from Estonia – EVS from March 2017 to February 2018
"When I look back over this year, it has been packed with unbelievable memories and achievements, both collective and personal. In no particular order we have: met personal heroes, learnt from some of the best people in the sport field, attend conferences and congresses, built strong personal and professional networks, eaten a lot of cake, experienced multiple different cities, countries and cultures from Denmark to England and Brussels, learned from the wisdom and kindness of my colleagues, and shown what anyone can do when given the opportunity."
Judith Solanas Sanchez from Spain – EVS from March 2017 – February 2018
"Volunteering through European Voluntary Service (EVS) gives you an opportunity to live abroad, work in an international environment in the area you would like to develop more and can lead to employment, like in my case. Take the opportunity to learn and experience something new. Polish your CV with international experiences, meet new people and get employable/employed."
Monika Rešetar from Slovenia– EVS in 2015, currently ISCA Project Coordinator

"I have gained a powerful international network and cultural sensitivity that has helped me navigate through different environments, feeling that I can 'sit at the table' with anyone, including Commissioners from the European Union, the Mayor of Ljubljana or the President of Iceland."
Sorin Buruiana from Romania, EVS at ISCA from August 2009 until June 2010
"On a personal level, as my EVS was my first experience abroad (and the only on so far), I think I have learned to be open to the rest of the world. Today I have the feeling I grew through contact with great people from all over the world."
Marie Grillet from France, EVS at ISCA from September 2014 to August 2015
Other important information and feedback about the good practice
More info about EVS in ISCA
Check out which program fits
to your profile.